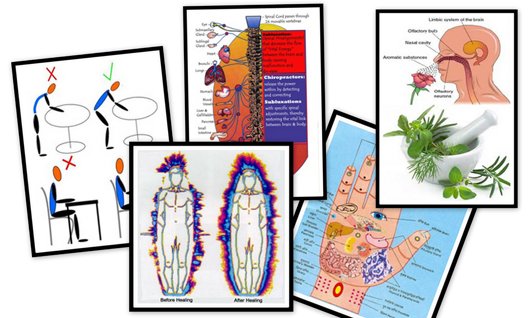 Alternative Medicine: Learn When To Use
Is alternative medicine safe? Does it work?
Here are some brief notes on some of the best known forms of alternative medicine. But remember: if you are thinking of trying any form of alternative medicine then my advice is that you should check with your own doctor first. Make sure that he is happy about what you are planning to do. And do make sure that the alternative practitioner you intend to consult is properly trained.
These notes are not complete – they are merely intended to provide a very brief, personal introduction to a massive subject.
* * *
Acupressure
Acupuncture with fingers rather than needles. Like acupuncture the idea is to stimulate the flow of energy along the body's natural channels. Acupressure is a cross between acupuncture and massage said to be very good for dealing with headaches, backache, muscle pains etc.
Acupuncture
The Chinese, who invented acupuncture, believe that the human body contains 12 channels along which internal energies flow. When one of these channels is blocked illness develops. Acupuncturists stick needles into the skin in an attempt to unblock the channels and allow the energy flow to continue. Over 1000 acupuncture points have now been identified. Acupuncture does work – particularly in the treatment of pain and it is recommended by the World Health Organisation. In addition to helping patients with pain it also works in the treatment of many other disorders.
Alexander Technique
Founded at the turn of the last century by an Australian actor called F.M. Alexander who believed that many illnesses develop because we don't sit, stand or walk properly. People who've been trained in the Alexander technique claim it helps relieve many health problems – particularly bone and joint troubles, backache and stress disorders.
Aromatherapy
Aromatherapists claim that by massaging patients with sweet smelling oils they can treat an enormous range of physical and mental disorders. They choose scented oils from specific flowers, plants and trees to influence moods and treat diseases. The massage itself may be soothing and relaxing.
Chiropractic
Chiropractic was established by a Canadian called Daniel Palmer who believed that 95 per cent of illnesses are caused by displaced bones in the spine – and can, therefore, be cured by manipulating the spine. There is evidence available to suggest that chiropractic can be useful in the treatment of bone and joint disorders – for example backache.
Healing
There are thousands of healers in practice. Healers work in many different ways. Some lay their hands on their patients. Some say they don't need to touch their patient. Many works free of charge. There's evidence to show that healers ran produce 'miraculous' results. No one really knows whether this is because they trigger off the body's self-healing powers or because of mysterious forces. There are virtually no risks or side effects with healing.
Herbalism
One of the oldest branches of medicine. Many modern drugs are derived firm herbal remedies. Drug companies base much of their research on looking for useful compounds that can be prepared from plants. About a third of the drugs doctors prescribe are plant-based. Today many millions of people have turned away from orthodox medicine and prefer to use herbal remedies. Herbal remedies are available for just about every illness imaginable.
There is no doubt that many herbal remedies do work – whether bought over the counter or prescribed by a herbalist.
Homeopathy
Modern homeopathy was invented by Samuel Hahnemann in the 19th century. He believed that he could cure patients with minute doses of drugs. The theory is that the incredibly small doses trigger off the body's self-healing mechanisms. Homeopathy has much in common with vaccination in which a small amount of a foreign substance is introduced into the patient's body in order to stimulate the body's defence mechanisms. It really does seem to work.
Hypnotherapy
Modern hypnotherapy began with Franz Mesmer in Vienna in the 18th century. When used by a skilled expert it can be useful and effective. There's evidence to show that hypnotherapy can help patients relax and deal with stress.
Hydrotherapy
Simply means treatment using water. Hydrotherapy is practised in many health farms and alternative clinics. You can sit in it, be sprayed with it or drink it. You can have it very cold or very hot. Those who believe in hydrotherapy claim it can be used to treat all sorts of illnesses.
Music Therapy
Four thousand years ago Hindu doctors used to play soothing music while surgeons operated. They used to have music played in the wards too – they believed it helped patients get better. They may have been right. The value of music therapy seems clear. Music helps cure emotional and mental problems – and helps relieve pain.
Meditation
Many modern diseases are caused by stress – and by our inability to relax. Meditation is a relaxation technique which works – and which can be easily learned for home use.
Naturopathy
Naturopathy was founded by Hippocrates around 400 BC who said that the best way to maintain good health was to eat and exercise moderately and carefully. Simple naturopathy means having a healthy lifestyle.
Osteopathy
Founded in 1874 by Andrew Tayler Still, an American who believed that the faults in the bony part of the body cause many diseases. Osteopaths claim that they can treat illnesses by manipulating the body – especially the spine. I don't think there is much difference between chiropractic and osteopathy. Excellent for problems such as backache. Some experts say that half of the patients going to an osteopath have backache. Many doctors with back trouble seek help from osteopaths.
Five reasons why alternative medicine may be useful
Alternative remedies are often more 'natural' than orthodox medical remedies – they allow and encourage the body to heal itself.
It is often possible to learn alternative techniques for home use — gaining independence from professionals.
Most – but not all – forms of alternative medicine are relatively safe. The risk of side effects are usually low.
Alternative practitioners are not usually as rushed as orthodox doctors – they have more time to talk to patients.
There are not usually any waiting lists for alternative treatment.
https://www.vedicgiftshop.com/wp-content/uploads/2012/08/Alternative-Medicine.jpg
318
530
Gadadhar Das
https://www.vedicgiftshop.com/wp-content/uploads/2012/08/VedicGiftShop-Logo.gif
Gadadhar Das
2012-08-26 18:16:24
2021-02-22 15:27:17
Alternative Medicine: Learn When To Use