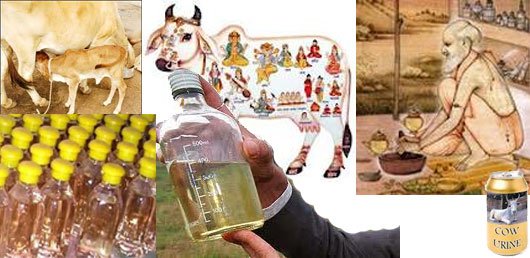 Cow Urine: Anti Cancer Property & Hope for Cancer Disease
Anti-cancer property of cow urine
The Indian Cow: The Scientific and Economic Journal
Year : 2009, Volume : 5, Issue : 19
First page : ( 22) Last page : ( 58)
Print ISSN : 0972-9585
Online ISSN : 0973-9696.
Chauhan R.S. & Singhal Lokesh : Centre for Animal Disease Research and Diagnosis (CADRAD), Izatnagar (U.P.)- 243 122, INDIA.
Dhama K. : Division of Avian Diseases, Indian Veterinary Research Institute, Izatnagar (U.P.)- 243 122, INDIA.
Abstract
Cow urine has a unique place in Ayurveda and has been described in 'Sushrita Samhita' and 'Ashtanga Sangraha' to be the most effective substance/secretion of animal origin with innumerable therapeutic values. It has been recognized as water of life or "Amrita" (beverages of immotality), the nector of the God. In India, drinking of cow urine has been practiced for thousands of years. It is an important ingredient of panchgavya, a term used to describe five major substances (urine, milk, ghee, curd and dung), obtained from cow. All the five products possess medicinal properties, and are used singly or in combination with some other herbs against many diseases, even those not curable by allopathic treatments. This kind of alternative treatment, termed as 'panchgavya therapy' or 'cowpathy', has been reported to be beneficial even for dreaded diseases like cancer, AIDS and diabetes. Practitioners of Ayurvedic medicine from India routinely use cow urine as a remedy and the medicines made from it are used to cure several diseases.
Improvements have been shown or reported with those suffering from
flu
allergies
colds
rheumatoid arthritis
bacterial/viral infections
tuberculosis
chicken pox
hepatitis
leucorrhoea
leprosy
ulcer
heart disease
asthma
skin infections
aging
chemical intoxication etc.
Cow urine can kill the number of drug resistant bacteria and viruses. Recently the cow urine has been granted U.S. Patents (No. 6896907 and 6,410,059) for its medicinal properties, particularly for its use along with antibiotics for the control of bacterial infection and fight against cancers.
Through extensive research studies a cow urine distillate fraction, popularly known as 'ark', has been identified as a bioenhancer of the activities of commonly used antibiotics, anti-fungal and anti-cancer drugs. Thus it can promote and augment the bioactivity or bioavailability or the uptake of drugs in combination therapy and reduce the dose and duration of treatment. These milestone achievements highlight the beneficial role of cow urine in treating bacterial infections and cancers and that cow urine enhances the efficacy and potency of therapeutic drugs.
During the past few years cow urine therapy has provided promising and authentic results for the treatment of cancer, a deadly malady which is being faced by the mankind and the incidences of which are ever increasing in the current scenario of changed lifestyle and food habits along with exposure to predisposing factors of carcinogens such as tobacco chewing, smoking, alcohol intake, environmental pollutants, occupational health hazards etc. Anti-cancer potential of cow urine therapy has been reflected by several case reports, success stories and practical feed back of patients for the treatment of cancer. Cow urine enhances the immunocompetence and improves general health of an individual; prevent the free radicals formation and act as anti-aging factor; reduces apoptosis in lymphocytes and helps them to survive; and efficiently repairs the damaged DNA, thus is effective for the cancer therapy. Experimentally it has been proved that among all sorts of urine  the urine of the Indian cows is most effective. Seeing the potential use of indigenous cow urine in several ailments including even the cancer, the use of Gomutra (cow urine) of indigenous breeds of cattle should be promoted extensively. However, scientific validation of cow urine therapy is required for its worldwide acceptance and popularity. This review highlights the anti-cancer activity of cow urine and the strategies for promoting its vital medicinal potential and prospective for the benefit of mankind with the view that cow urine therapy needs immediate attention, promotion, and wide popularity and proper support of the scientists, researchers and clinicians to strengthen this alternate low cost therapy having no side effects, as generally observed with chemotherapy and radiation therapy being followed for curing cancers, and thus inspire confidence in the public about its good virtues.
Sri Sri Ayurveda Gomutra Arka 500ml also available.
[amazon_link asins='B01HZYABUM,B00WASWJ6S,B01949C7H6′ template='ProductAd' store='ggd108-21′ marketplace='IN' link_id='8c6646b4-13c4-11e7-9fd4-21ac0badb158′]
Indian Cow's Gomutra Plus Powder Capsules (30 Capsules)
[amazon_link asins='B0198L61LI' template='ProductAd' store='ggd108-21′ marketplace='IN' link_id='81c20d40-13c6-11e7-b095-7f2c81e4abfb']
Now you can get Cow Urine in form of Capsules. Many of our visitor asked that they wish to have cow urine capsules, so we are happy to list it here.
1. Indian Cow's Gomutra Plus Enriched with Triphala
2. First Time In Ayurveda an innovation dedicated to the betterment of mankind.
3. We use only pure, fresh Gomutra procured from healthy Indian breed cow only.
4. Help for weight reduction Twacha rog (Skin diseases), Baddhakoshtata (Constipation), Apachan (Indigestion), Blood sugar & blood pressure control.
5. Research has proved that Gomutra contains Antifungal & Antibacterial properties. It removes toxins out of the body. Hence, Gomutra Plus capsule consumption protects you from many diseases.
Sri Sri Ayurveda Amruth Tablet also available.
[amazon_link asins='B01GRO4UTY' template='ProductAd' store='ggd108-21′ marketplace='IN' link_id='81c20d40-13c6-11e7-b095-7f2c81e4abfb']
Hope for Cancer Disease
Reference : "Kalyan" magazine, May 1995
Complicated diseases even cancer can be cured by cow urine. Here is a true story of a cancer patient becoming hale and hearty with the use of cow urine of desi breed:
Sri Vinayak Narsingh Kulkarni, (At & Po. Sarola, taluka: Kati, Barshi, District Solapur, Maharashtra) aged 63 years, suffered from tongue and tonsils cancer. He consulted the doctors from Siddheshwar cancer hospital, near Solapur who suggested 18 and 12 total 30-radiation dose treatment immediately.
He immediately started taking radiation treatment in April 1992. After 3 rounds of radiation treatment he started experiencing excessive pain. Sri Kulkarni felt that instead of tolerating excessive pain due to radiation, he decided that it was better to die without any treatment at all. He left the cancer hospital and went back to his village. After reaching home, his condition was precarious. He felt excessive weakness and was unable to walk even a few steps. He could take only liquid diet and could not eat even a small bit of bread.
However a miraculous change came over his life when he came across an article an old book about cow urine, cow dung, curd, milk and ghee (clarified butter) based preparation that is panchagavya and its medicinal qualities. According to it, by taking panchagavya daily, inner detoxification takes place. Surrendering to Lord Krishna and on the advice of local Vaidya, Sri Kulkarni started taking, only two out of five constituents of Panchagavya i.e. only cow urine 100 ml and fresh cow dung 30 mg. He mixed them and after filtering the mixture through a clean cloth he drank it.
Now this began his daily ritual to take the filtered solution of mixture of cow dung and cow urine in the mornings after toothbrush. Gradually over a period of four months his weakness reduced and slowly he started taking his complete diet.
Surprisingly TUMOUR AROUND THE NECK DISAPPEARED as there occurred a miraculous change in his health. Whereas earlier he could not walk even four steps, now he was able to walk five kilometers.
Sri Kulkarni went again to the Allopathic physician of known reputation for a consultation at Solapur. The doctor on the basis of external indications told him that he was cured of cancer.
I went to meet him on 30 November 1995 in his village. Sri Kulkarni at the age of 63, looked very healthy.
For treatment of all diseases using cow urine and cow dung contact-
Rajvaidya Shree Revashankar ji
Trivedi, Ratlai (Jhalawad), Rajasthan.
A word of caution: Keep in mind that for medicine the cow urine or cow dung should be of cows of Indian breeds only. Jersey and crossbreed cows should not be used. Cow urine and cow dung of the cow, which eats organic grass, should be taken.
https://www.vedicgiftshop.com/wp-content/uploads/2012/08/cow-urine-qualities.jpg
258
530
Gadadhar Das
https://www.vedicgiftshop.com/wp-content/uploads/2012/08/VedicGiftShop-Logo.gif
Gadadhar Das
2012-08-15 17:50:11
2021-02-22 15:27:17
Cow Urine: Anti Cancer Property & Hope for Cancer Disease