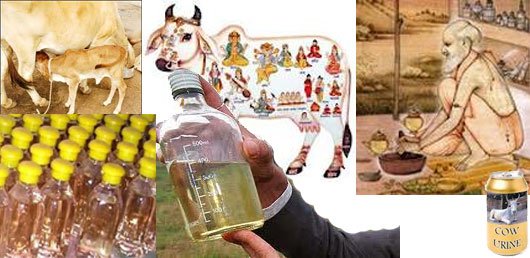 Cow Urine: Benefits in High Blood Pressure & Astama
Following article is written by a patient of two diseases; blood pressure and asthma that appeared in Kalyan Monthly, September 1995 page 801. This article has been given here unchanged-
My age is approximately 79 years. I was suffering from high blood pressure and asthma for long time. I was taking allopathic medicines regularly but unfortunately without any effect.
In gauseva issue of Kalyan monthly I read about treatment of various diseases using cow urine. I made up my mind, why not try this. I used to catch cold often. Therefore I started taking half spoon Alum powder in half a cup of cow urine. First day itself I improved. After about a month, when I got checked by doctors surprisingly I came to know that my lungs got fully cured and blood pressure has also become almost normal.
Earlier I could not walk even two hundred steps. But now I walk two kilometres daily.
If somehow I had known about it earlier, I would have been able to save my wife who died, five months back due to enlargement of liver. Various allopathic medicines were not effective.
It is my first hand experience that using cow urine for a short duration has miraculous effects to deal and cure all human ailments and disorders.
Ramswaroop Verma
Cow urine is fully capable to cure animal diseases as well.
As evidence, a letter from assistant Director, veterinary doctor, Mandsaur (M.P.) is attached here with.
Dr. R.S. Shrimal, M.V.Sc. & A.H.
Assistant Director, Veterinary
Ph. Off. 694 Resi. 412 PP
Key Village scheme, Mandsaur (MP)
Date: 25-11-84
Shriman Rajvaidji,
Respectful obeisances,
With reference to your talk on 25-3-84, as far as the utility and success in cow urine therapy is concerned, In Mandsaur area I have used your medicine based on cow urine to treat all types of animals diseases. Medicines made from cow urine were effective in following diseases:
Skin diseases
Liver diseases
Rheumatic diseases
Cow urine treatment has definitely been effective in above diseases. If this therapy is developed to cure animal diseases, definitely cheap Indian medicines would be available, in future on animal diseases.
Dr.R.S. Shrimal
https://www.vedicgiftshop.com/wp-content/uploads/2012/08/cow-urine-qualities.jpg
258
530
Gadadhar Das
https://www.vedicgiftshop.com/wp-content/uploads/2012/08/VedicGiftShop-Logo.gif
Gadadhar Das
2012-08-19 14:26:34
2021-02-22 15:27:17
Cow Urine: Benefits in High Blood Pressure & Astama