Description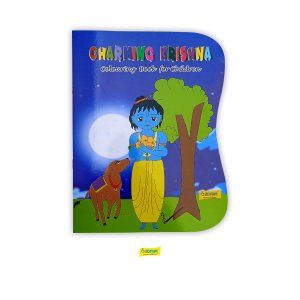 Introducing the enchanting Charming Krishna, a coloring book, designed especially for budding artists and curious minds! Step into a world filled with captivating illustrations that bring to life the incredible stories of Lord Krishna. Each page is bursting with color, igniting your imagination and taking you on a magical journey through Indian mythology.
With a whopping 26 pages of intricate designs, Charming Krishna provides a large canvas for your creativity to soar. No matter if you're just starting or an experienced artist, this book is perfect for you. The sturdy pages ensure your artwork stays pristine, allowing you to fully immerse yourself in
the joy of coloring.
Explore the beauty of Indian culture and let your imagination run wild with Charming Krishna. Whether you're looking to relax, express yourself artistically, or seek spiritual inspiration, this book has something for everyone. Connect with the divine and unleash your inner artist in a fun and delightful way.
Parents, join your child on this enchanting journey and witness their creativity come to life. Charming Krishna is the perfect gift to nurture your child's artistic talents while introducing them to the captivating world of Lord Krishna. Don't wait any longer – get your hands on a copy and let the colors of imagination and spirituality unfold.