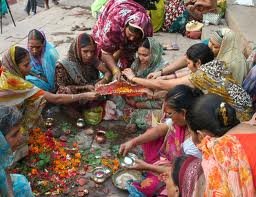 Ekadasi (sometimes spell Ekadashi) is a fast observed by both Hare Krishna devotees and Hindus on the eleventh day of the waxing moon. There are many rules regarding foods that can be consumed and differ depending on the strictness of the fast. A Vaishnava calendar should be consulted so individuals can fast on the correct day.
Rules for Observing Ekadasi Fast
Full fasting on Ekadasi is good practice in restraining the senses, though the main reason for observing the fast is to remember Krishna. The needs of the body are simplified on this day and it is advised to sleep less to concentrate on devotional service, read scriptures and chant.
The fast begins at sunrise and lasts until the next sunrise so if one eats grains during this period the fast is broken. It is not advised to eat in the pre-dawn hours in Vedic teachings, and especially not on ekadasi. Fasting should be followed from the time of waking on the ekadasi day. If the fast is accidentally broken, it should be followed for the rest of the day and the following day too.
Individuals whom are participating in a strict fast may not eat anything after sunset on the previous night to ensure there is no undigested food left in the stomach on Ekadasi. Many avoid eating any prasadam from an offering that includes grains. Vedic literature teaches that sin (papa-purusha) takes shelter in grains on Ekadasi, and therefore should be avoided in all forms (even if offered to Krishna). Ekadasi grain prasadam should be stored until the next day or can be distributed to persons not strictly following these regulations or to animals.
How to Break Ekadasi Fast
If a nirjala (complete fast without water) is observed then the fast does not have to be broken with grains on the following day. The fast can be broken with caranamrita (water from bathing Krishna's feet), milk or fruit at the prescribed time outlined on the vaishnava calendar. This time will vary according to your location. If a partial Ekadasi fast is observed with fruit, vegetables, nuts etc. then it is necessary to break it with grains.
Foods That can be Eaten When Fasting on Ekadasi
[amazon_link asins='B009WCYP0S' template='ProductAd' store='ggd108-21′ marketplace='IN' link_id='a76f2944-12ff-11e7-b617-a132691d2126′]Srila Prabhupada never imposed complete fasts for devotees and advised to eat simply on Ekadasi and concentrating on chanting and devotional service. The following foods and spices can be eaten when observing this fast:
All fruits (fresh and dried);
All nuts and nut oils;
All types of sugar;
Buckwheat;
Potatoes, cassava and sweet potatoes;
Coconut;
Olives;
Milk;
Fresh ginger;
Black pepper; and
Rock salt.
Restricted foods on Ekadasi
Ekadashi Vrat Food (Khana):
[amazon_link asins='B01EWVO8P0,B06XSBXDMT,B011UES0OW' template='ProductAd' store='ggd108-21′ marketplace='IN' link_id='280ec428-1b71-11e7-a6ed-4102113b1719′]
[amazon_link asins='B01L7YUC82,B01L7YUAIE,B01L7YU7JQ' template='ProductAd' store='ggd108-21′ marketplace='IN' link_id='280ec428-1b71-11e7-a6ed-4102113b1719′]
If even one grain is ingested, even accidentally, the Ekadasi fast is considered to be broken. Therefore great care is taken when cooking and spices are taken from a brand new package untouched by grains. The following foods must not be consumed on ekadasi:
All grains (e.g. millet, barley, farina, rice and urad dahl flour) and products derived from these ingredients;
Peas, chickpeas, dahl and all types of beans, including derived products such as tofu;
Salt, baking soda, baking powder, custard and many sweets are avoided as they are often mixed with rice powder;
Sesame seeds (except on Sat-tila Ekadasi, when sesame seeds may be offered as well as eaten);
Spices such as asafetida, cloves, fenugreek, mustard, tamarind, fennel, cardamom and nutmeg.
Fasting on ekadasi is an important austerity followed by devotees of Krishna and is undertaken to increase spiritual development. It is better to eat a little of the allowed foods rather than fast completely and become too weak to fulfill your duties and devotional service.
– by Priya Chauhan
Ekadashi Vrat Katha in English: (Support Us)
[amazon_link asins='B01NAN8X9H,B018UECP8M' template='ProductGrid' store='ggd108-21′ marketplace='IN' link_id='ed22b51e-12fd-11e7-a260-4bc6961de53e']
Ekadashi Vrat Katha in Hindi: (Support Us)
[amazon_link asins='B01MT9H0QZ,8129308401′ template='ProductGrid' store='ggd108-21′ marketplace='IN' link_id='0126748e-12fe-11e7-8351-cda08e3bf76e']
Known Words: Ekadasi in 2014, dawn hours, ekadashi, ekadasi, hare krishna, krishna devotees, prasadam, vaishnava calendar, vedic teachings, waxing moon
https://www.vedicgiftshop.com/wp-content/uploads/2012/08/ekadashi-fast-vrat.jpg
197
256
Gadadhar Das
https://www.vedicgiftshop.com/wp-content/uploads/2012/08/VedicGiftShop-Logo.gif
Gadadhar Das
2012-07-29 21:28:59
2017-04-07 14:38:13
How to Fast on Ekadasi